Living Body - 'Body is Working' - 12" VINYL / CD
£

10.00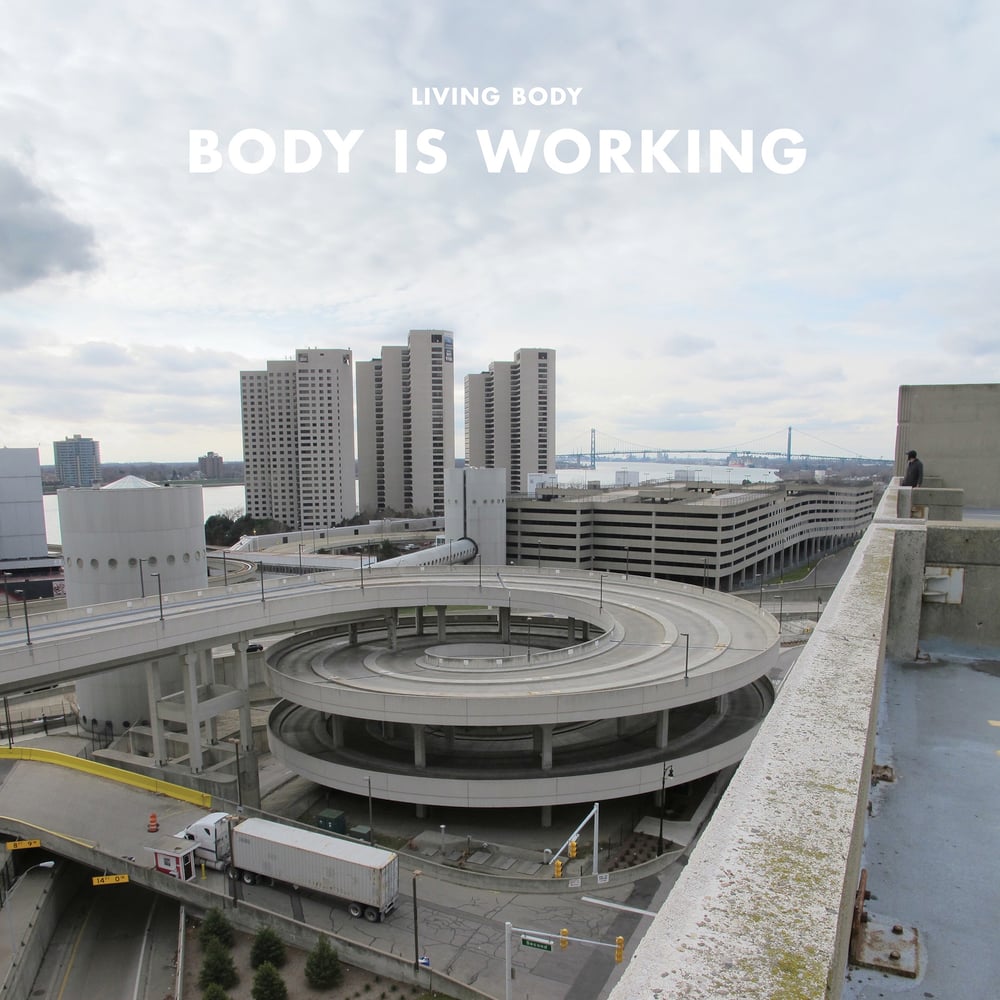 'Body Is Working' is the debut album by Living Body, a new project from Leeds-based Chicagoan multi-instrumentalist Jeff T. Smith (formerly, Juffage), featuring longtime collaborators Katie Harkin (Sky Larkin, Wild Beasts, Flock Of Dimes, Sleater-Kinney), and Tom Evans (Vessels).
Living Body came into fruition after the musicians took part in a one-off performance, a live event aptly titled 'Sonic Cauldron'. Here, audience members were positioned within the immersive sensory confines of a large, purpose-built circular PA system. Smith also specifically designed a computer programme to distribute the sound of the musicians playing in real time around the perimeter of the venue - a deconsecrated church in the heart of residential Leeds.
Following the concert, the project grew into a new live group, augmented by additional members Alice Rowan (Mayshe-Mayshe) and Sarah Statham (Esper Scout). As a result, Living Body sees Smith's previous solo project evolve from the unbridled spectacle of live performances based on live looping and super-colossal multitasking into a direct and focused approach, with emphasis on honest and immediate bulletproof songwriting. Anchored by Smith's vision of music as a means of bringing joy into the lives of others, Body Is Working distills an endless fascination with the entanglement of pop and noise/drone forms into an impeccably unified, cohesive entity.
TRACKLISTING:
1. Declaration of Independence
2. Choose
3. Slowburner
4. I Recollect
5. Trail Mix, pt. 2
6. Heirloom
7. Last Few True
8. Penumbra
9. Closer
LP INFO:
Each 12" comes of the vinyl with etched B-side and risograph insert printed at Footprint Workers Co-op, Leeds UK, plus a digital download of the whole album.
CREDITS:
All instruments played & recorded by Jeff T. Smith, with:
Tom Evans: French horn on "Choose", bass on "Trail Mix, pt. 2", guitar on "Last Few True"
Katie Harkin: Vocals on "Declaration of Independence", "I Recollect", and "Last Few True", guitar on "Trail Mix, pt. 2"
Jenna Isherwood: Viola on "Declaration of Independence", "Choose", "I Recollect", and "Trail Mix, pt. 2"
Pete Mycroft: Trumpet on "Choose"
Recorded at the Bungalow, Left Bank Leeds, Greenmount Studios and Harkin Household

Mixed by Jeff T. Smith and Lee Smith at Greenmount Studios

Mastered by Greg Calbi at Sterling Sound
Cover photo by Jenna Isherwood
LP layout by Adam Nodwell
© 2016 Kingfisher Bluez / Barely Regal Records
DOWNLOAD ONLY AVAILABLE FROM BANDCAMP.
Questions? Email hq [at] livingbodylife [dot] com.
Share